Increase Your Wellbeing With Our Walk-In Handicap Showers
Welcome to Shower Bay! We are your leading resource for high-quality, ADA-compliant handicap showers. Let us provide you with safe roll-in shower stalls that offer total accessibility whether you are handicapped or using a wheelchair for mobility. We help senior citizens, handicapped individuals, and caregivers of the elderly to find the perfect solution for accessibility in the bathroom. Start by learning more about the benefits of handicap accessible showers by Shower Bay.
Being mobile means you can safely and securely take a shower using our walk-in shower stalls. You are not worried about slipping or falling in this wet environment. Yet the conventional bathroom is not adaptable to individuals with accessibility issues. To make your bathroom compliant, you may be able to use shower seats, grab bars, or shower commode chairs. If you are shopping online for a barrier-free shower due to a disability or to help you improve mobility after a long illness or surgery, we have you covered:
Roll-in shower stalls make it easier for individuals in wheelchairs to get around.

For post-operative rehabilitation, these types of handicap showers allow you to move around more freely throughout the different phases of recovery.
These shower stalls are designed to work seamlessly with wheelchairs, walkers, and other walking aids. As a leader in walk-in shower kits that are safe and ADA approved for shower wheelchairs, Shower Bay helps you increase your mobility.
Taking a shower is one of the most private and personal experiences that anyone has. For people who struggle with mobility or need assistance after surgery, this experience can be lost. As a result, patients may have a loss of self-confidence that can affect their emotional and mental wellbeing. By making showers safer for seniors or handicap individuals, we are helping to boost confidence.
Our shower stalls enable anyone who is able to stand or sit to take a shower and maintain their personal hygiene. Along with helping you to stay clean, which aids in wound healing and immunity response, you have the confidence that you can take a shower without worrying about getting hurt or being stressed. It all starts with Shower Bay!
Unfortunately, falls are the most common among senior citizens according to the Fall Prevention Center of Excellence at the USC Leonard Davis School of Gerontology. Choosing an ADA roll-in shower certifies that using this device will protect against preventable accidents including slip-and-fall incidents.
An ADA-approved shower stall is designed and constructed using plans and materials that are proven to be safe for handicap use. This way you or your loved ones can be confident in knowing that you have selected the best portable shower possible. Shower time can be less stressful and relaxing—the way it is intended to be.
Increase Your Independence
Right along with a boost of confidence, a barrier-free or walk-in shower can instill independence. When you can bathe alone it greatly increases your autonomy. At the same time, you are able to regain your physical and mental strength. Whether you are recovering from surgery or living with an impairment, this can help you overcome your disability.
Being able to move around and bathe on your own is one of the most powerful activities you can do as someone living with a disability or post joint replacement surgery. And it all starts by choosing the best-rated handicap showers by Shower Bay. Our roll-in showers include handrails and guards designed exclusively to accommodate individuals with accessibility needs.
Along with having a shower that helps you to get clean without fear of falling, Shower Bay shower stalls also help you keep your own space clean. By having a portable handicap shower, you or your caregiver is able to keep this stall clean with minimal effort thanks to the low profile design. In fact, you are able to sit in our shower chair and clean the stall without standing. This is a great help for individuals who have issues with mobility but want to maintain their independence by cleaning.
Here at Shower Bay, we work with home health aides, nursing homes, and seniors who are aging in place. Our customers and clients need to find ADA roll-in showers that are going to be safe for their patients or themselves. As such, over the years, our walk-in showers by Shower Bay have been field tested and industry approved. Shower Bay gets a seal of approval from our satisfied customers and this will hopefully include you.
Discover the difference that Shower Bay handicap showers will make in improving your overall health and wellbeing with these benefits. Call us today to find out how to get started with buying roll-in showers!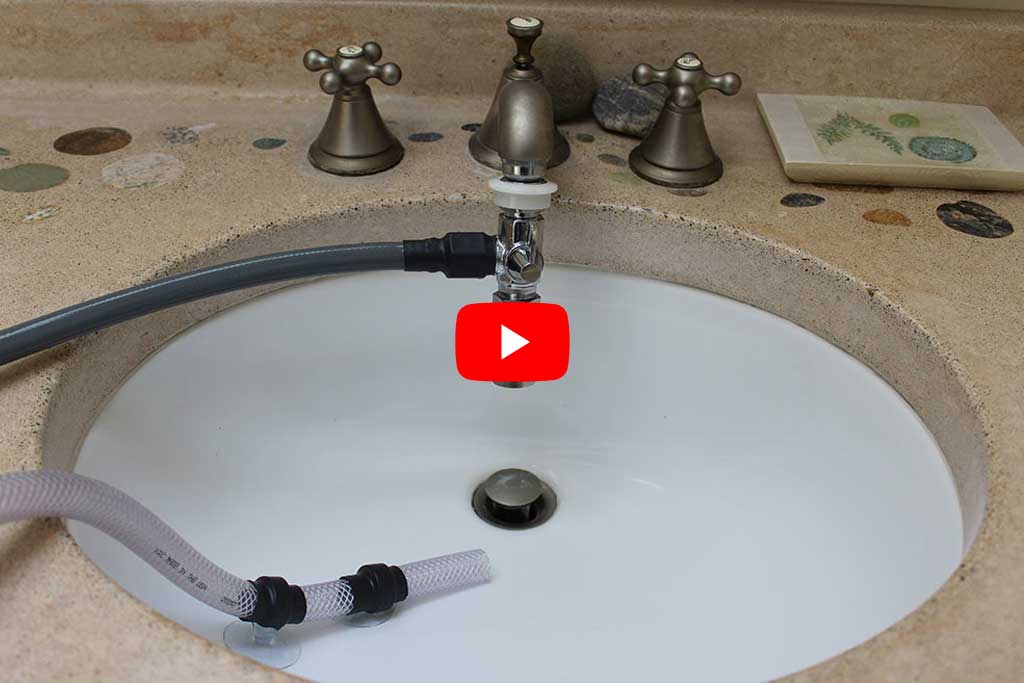 One of the aspects of choosing the best type of wheelchair accessible shower stall for your needs is the installation. If you want to avoid the costly and messy process of remodeling your bathroom, check out walk-in shower kits:
A roll-in shower stall by Shower Bay can easily be erected in any room. You can install the handicap shower in a bedroom, office, den, or any other ADA-accessible environment.

With our ADA roll-in shower units, you do not need to use any tools to assemble the stall. The shower works as soon as you attach it to your sink faucet.
It literally takes less than 10 minutes from receiving the stall to being able to take a shower.

Plus, the Shower Bay portable wheelchair shower can be rolled into your entryway.
As an added bonus, you don't need to hire additional laborers to help with the installation of this compliant shower for disabled or elderly individuals. That saves you even more money and effort.
Get Your Handicap Shower Today!
Shower Bay, the leading manufacturer of accessible showers, is ready to assist you with your portable shower needs. Our handicap shower stall is available immediately. We also offer shower wheelchairs that fit securely within the shower stall.